A Blueprint for Implementing IIoT in a Brownfield Facility: Part 2
February 1, 2019 Shopping for Your Brownfield IIoT Solution
Part 1 of our Blueprint provided you with a Solution Overview of our brownfield IIoT monitoring solution to help you measure the performance of equipment you have already installed in your factory floor, including auxiliary systems like conveyor belts and pumps. Now that you're familiar with the basic architecture and you've set your goals and objectives, we'd like to present the shopping list for all the various components — hardware, software, and supporting equipment — that you'll need to implement and run the solution in your own factory.
We've included a list price for every item we're specifying so that you can see the affordability of our proposed solution right up front. We also have a link to where to purchase each item and notes on applicable alternatives. Please note that our suppliers may be updating pricing frequently, so the prices we have listed are valid as of the date of publication of this blueprint and may change at any time.
Hardware
Vibration sensor

Sensor used in VibrationSensor mode rather than inclination mode

U.S. List price:  $303

We have used only 1 vibration sensor in our solution, but you can source up to about 100 units depending on equipment to be monitored. At this point, you may experience some reliability issues so we don't recommend using more than 100 sensors.

Get information on other sensor options here

Temperature sensor

U.S. List price:  $197

As with the vibration sensor, you can source up to 100 units depending on equipment to be monitored. We've used 4 temperature sensors in our initial solution.

IO-Link master (IOLM) with Ethernet/IP interface

– Up to 8 connected devices

– high protection rating; suitable for food and beverage production

U.S. List price:  $424

Source 1 IO-Link master per 8 sensors

If fewer ports are required (4 or less) or you require a different OT fieldbus, please see

this list

of additional options

If have fewer than 8 sensors, but some are located more than 20 meters apart, you will need to source a second IOLM unit.

Edge Compute

Intel® Atom N2800 processor with 2 Mini-PCIe slots

Be sure to order configuration with Advantech Linux OS; unit ships with Windows 7 unless otherwise specified

-or-

Intel® Celeron® J1900 quad-core processor

U.S. List price:  $495

We've certified several gateways and Edge compute devices for effective operation with our solution, that are tested to run the Corlina Technology (CT).
Additional Equipment
IO-Link interface

– for connecting IO-Link enabled sensors to a PC for configuration

U.S. List price:  $385

Source 1 IO-Link interface; this is a one-time configuration tool only used for sensor validation and configuration.

Ethernet connection cable

10 m PVC cable to connect IO-Link master with your Edge Compute device

U.S. List price:  $111

Purchase 1 per IO-Link master unit used; for cables in other lengths, see our list of options.

Switched-mode power supply

U.S. List price: $216

Purchase 1 per IO-Link master unit used. For other current requirements, we have compiled a range of options.

Connecting cable with socket

3 m PUR / M12 connector for connecting your IO-Link master (IOLM) to its power supply

U.S. List price: $14

Purchase 1 per IO-Link master/switched-mode power supply unit used. Available connectors range in length from 1 to 80 m; if a length other than 3 m is required in your environment, see more options here.

Sensor connection cable

5 m PUR cable

M12 connector (at both ends)

U.S. List price: $24

Purchase 1 per sensor used. Lengths range from 0.3 to 15 m for connection; some cables include the 90-degree connector head option (as shown). Please refer to this complete table for additional available cabling options.
Software
Sensor Data Capture Daemon

by Corlina

Application used to capture raw data collected by temperature and vibration sensors

U.S. List price:  free

OpenSource software created for community usage; shared on our public GitHub repository

Corlina System of Trust™

The Corlina System of Trust has a 30-day free trial available for all users. At the conclusion of the trial, you can choose to activate the plan of your choice.

U.S. List price:  $0 for first 30 days; $300 / month for Pilot Plan

InfluxDB

InfluxDB is InfluxData's open source time series database.

U.S. List price:  free

Chronograf

Chronograf is InfluxData's open source web application which is used to visualize your monitoring data.

U.S. List price:  free
All items listed above (Hardware and Additional Equipment) are the exact products we have used in the solution we deployed. You may have the need to include more or different types of sensors, IO-Link master units with different connectors, longer cabling, or a larger Industrial PC/Gateway. Please refer to the lists of additional options we've compiled at the links above to modify your purchases according to the specific requirements of your solution and the physical parameters of your manufacturing environment.
Once you've completed your shopping, particularly for your Hardware and Additional Equipment, you're ready to move one to Implementing Your Brownfield IIoT Solution. The first steps involving preparing your environment, which includes placing your sensors, locating power supplies, and other general steps you'll need to complete before the actual solution installation.
If you need assistance at any point during this process, please don't hesitate to contact us at support@corlina.com.
You can return to the first Blueprint article here.
Related articles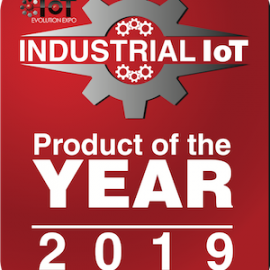 We were very excited to learn on Friday that the Corlina System of Trust has received a 2019 IoT Evolution Industrial IoT Product of the Year Award from IoT Evolution World, the leading magazine and Web site covering IoT technologies. It's very exciting when your product receives this type of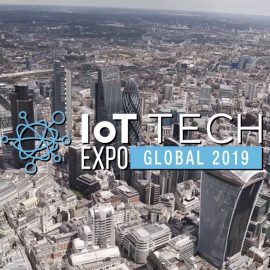 In our recent articles, we've talked about taking a different approach to embarking on building IIoT capabilities, one that protects organizations from pilot purgatory by focusing on a specific challenge in the manufacturing environment and yielding ROI quickly. It's not a rip-and-replace method requiring massive investments in new equipment. It's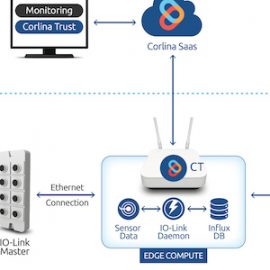 Solution Overview Corlina's brownfield monitoring solution blueprint is intended to enable monitoring and decision-making based on information captured from already-in-place equipment.  These existing systems are often implemented on closed architectures and/or closed data buses for reliability reasons, or they may not include any embedded sensors whatsoever.  Corlina provides a cost-effective